(Adding categories)

Line 1:
Line 1:
 

'''''[[File:Wiggles7f-1-web.jpg|thumb|The current members of The Wiggles with Dorothy The Dinosaur (center). From left to right: Emma Watkins, Lachlan Gillespie, Simon Pryce and Anthony Field.]]The Wiggles '''''is the name of both a children's music group from Australia and the show of the same name starring the group. The Wiggles started in 1991. The show sometimes airs on [[Time Warner Cable Kids]]. The current members are Emma Watkins, Lachlan Gillespie, Simon Pryce and Anthony Field. Anthony is the only original member of The Wiggles from 1991.

 

'''''[[File:Wiggles7f-1-web.jpg|thumb|The current members of The Wiggles with Dorothy The Dinosaur (center). From left to right: Emma Watkins, Lachlan Gillespie, Simon Pryce and Anthony Field.]]The Wiggles '''''is the name of both a children's music group from Australia and the show of the same name starring the group. The Wiggles started in 1991. The show sometimes airs on [[Time Warner Cable Kids]]. The current members are Emma Watkins, Lachlan Gillespie, Simon Pryce and Anthony Field. Anthony is the only original member of The Wiggles from 1991.

 
+

[[Category:TV Shows]]
---
Revision as of 23:55, 14 March 2014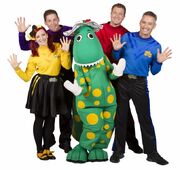 The Wiggles is the name of both a children's music group from Australia and the show of the same name starring the group. The Wiggles started in 1991. The show sometimes airs on Time Warner Cable Kids. The current members are Emma Watkins, Lachlan Gillespie, Simon Pryce and Anthony Field. Anthony is the only original member of The Wiggles from 1991.
Community content is available under
CC-BY-SA
unless otherwise noted.